Thankful Thursday!
1:35 PM
OH. MY. GOSH! I got a phone call this morning from our property manager (and good friend) and because I was at work - I was not to, how do you say, cordial, inviting - just plain nice, when he said hello and asked how are you and all the niceties that one
should
be saying/asking/doing when you are speaking with someone (all I was thinking was - ok, what do you want..terrible.terrible..work does this to me!). and there really should be no excuse for that. Then when we did get to talking he says - hey, so, I got you guys a bigger fridge - would it be okay to enter your house and install it today? What?! (I immediately felt even more like a shitty person) YES! WHAT?! (head spinning) why? thank you...how come? He begins to explain how ridiculous it is for a family of four using the old small fridge we have (we make due with whatever we get!) and I am just in shock and am very very very thankful. THANK YOU! I wish I could have taken back those first few seconds when I answered the phone, and just - well, just have been more appreciative - in general. Without getting something in return. Being nice just to be nice, should be human nature. Especially when this is something I am trying to convey/teach my 3 year old kid. Ugh, again with the practicing what you preach--note to self - practice what you are preaching! duh!
So there, my first
Thankful Thursday
post..linking up from
Mustache Mama
(yes, a lovely sponsor - check her out. She also has an
etsy shop
, where I'm lovin' the
wishbone necklace
)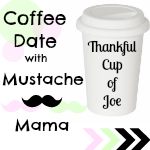 * Although Mustache Mama is a Sponsor (we did a swap :)). This is not a sponsored post..for full disclosure policy, please click here.