So, I had written this whole post up and published it and then in the middle of the night I thought of something else to edit about it and did so on my phone...and went back to sleep at 2:30 am...and then after breakfast as I started to try and read and sort thru my blog readers and read this post, I wanted to add something. So, I go to my blog post to add it and then I see my post and its not my post. It's not the post I finished, it's not the post that I edited..its a start of a post, but where did the rest of my post go? bahumbug.

Anyway, if you haven't already linked up on the GFC blog hop - you should. Who knows you might find your next bbf - blog best friend. So go, now...or, you know, after you're done doing all that you do..no, that may take awhile..just click the button, it's really quick..sort of.. :)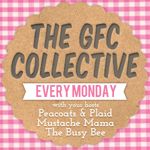 And, I don't know why I haven't seen this before! I remember the other commercials though..